Launching a new brand can be a daunting experience, doubly so when budgets are tight and you need to ruthlessly optimise your paid social campaigns.
Paid social is by no means a mandatory channel when launching a new product or service. Some clever PR and the right product-market fit can get quite a lot of free press.
These guerrilla type activities don't work for every product launch and most marketers still need to include paid social ads in their launch plan.
Disclaimer – The guide below doesn't apply in all cases. Depending on your product/service/business model you may find that some of the advice is not really relevant, or the metrics mentioned throughout the post are impossible to reach.
Paid Social Launch Strategy
One of the main difficulties when launching a new product or service is the lack of data. You do not know how the market will react to you and what % of the people you show it to may find it appealing enough to purchase.
To help us gather this data and reduce the risk of pouring thousands of pounds into marketing before testing the waters, I suggest launching in three stages. These three major periods have been tested by countless other businesses with great success:
Coming soon – Build interest and hype around the product or service. You ask users to signup to the pre-launch email list for a chance to win a free product, get the product on a discount, or have an exclusive first version of the product as early adopters.

Pre-launch – Users are able to purchase a bundle of products or an extended plan at a promotional price. This can be extended indefinitely depending on your business strategy.

Launch – the full website will go live with all items available for purchase at regular price.
Each of these periods should have defined audience and creative focused at the specific goals. It's important to consider the number of competitors and the maturity of the market you are entering. My recommendation is to always focus on direct sales rather than just awareness campaigns. The quickest way to determine if a product will be successful is to find out if people want to spend money on it.
Use the pre launch period to test audiences and messaging and how to best use your USP in the communication.
Coming Soon
The goal here is to gather as many emails from potential target customers. The majority of these will not place an order, but you can use this email list to create a Lookalike audiences on Facebook. You need a minimum of 1,000 emails to create a custom audience.
Pre-Launch
Goal is to generate at least 500 sales. Your Facebook advertising depends on the quality of the data that the Facebook pixel is able to collect. The Facebook Pixel needs at least 10,000 events before it can optimise well at scale. This means that you need to generate at least 100 sales at an average CVR of 1%. These sales don't need to come only from the paid social activity.
Launch
Goal is to acquire customers from the paid social activity at a profitable ROAS. This can be anywhere between 2-7x depending on your margins. Finding the right product / audience / messaging mix is key to be able to advertise at scale.
Paid Social KPIs & Benchmarks
When launching a new product via paid social ads I have observed the following patters of the CPA curve: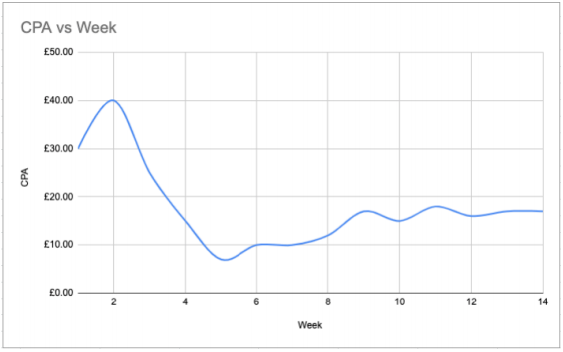 After the initial testing period the cost per acquisition falls as you find the creative and audiences match. Depending on the size of the audience and ad budget this period can extend from a few weeks to months. As the audience penetration increases, the number of the early adopters decreases and you observe an increase of the CPA.
As time progresses you reach a CPA/ROAS stability. There is a balance between acquiring new customers and getting old customers to return. Depending on the product/service this equilibrium period can go for many months/years. Customers of replenishable products have much higher lifetime value which needs to be taken into account when calculating your ROAS.
Campaign Types
There are 4 major campaign types that I generally advise to focus on, if you want to scale your paid social activities quickly and profitably.
Lookalike Acquisition Campaigns
Audiences of people that look like your customers. These audiences need at least 1000 emails/phone numbers and are based on the total Facebook audience size of a specific country. 1% Lookalike means that Facebook will choose the 1% of that country's total user based that look like your customer the most. In general the smaller the % the better those audiences work, but I've seen cases where 2% audiences are also performing well.
Interest & Demographic Acquisition Campaigns
The interest segments on Facebook are some of the most expansive and accurate I've seen in all social media platforms. They can and will include some very niche interests and unlike other platforms are not all defined by the Facebook team, but can pop up in the ads manager as new pages/groups on the platform are created. Combining that with very accurate demographic data and you can easily target 20 year-old fans of South Park that live in Colorado.
Retargeting Campaigns
Product catalogue retargeting – People who have seen specific product detail pages. These can also include users who have added to cart or started checkout, but did not purchased.
General visitors retargeting – users who have visited the website, but have not seen any specific product pages.
Social media engaged retargeting – users who have engaged with your social media channels, but didn't visit the website.
Customer Retargeting Campaigns
It's unlikely that someone will place a 2nd order immediately after the 1st one. Depending on the products they purchased, you can run 3 types of campaigns. These campaigns come into play only when you have 1,000 customers in each bucket:
Upselling Campaigns – If someone has purchased a trial or tester products to show them the more expensive products.
Cross Selling Campaigns – Show your customers a different product that complement their initial purchase.
Replenishment Campaigns – Show your customers the product they have already purchased X days after their purchase when it's likely they are running low.
Paid Social Budgets

The weekly budget table above is general guidance based on my experience scaling very lean paid social ad accounts, but are supposed to illustrate how CPA and ROAS change as you introduce your brand on the paid social channel.
The Budget/CPA/ROAS will be different in your case and will depend on the product prices, general market conditions, and the Facebook auction competitiveness for similar products.
The initial period will be more difficult and I suggest working with small budgets that gradually scale and change based on the performance of the individual target groups. As time progresses I suggest adding more campaigns and expand the audience targeting, which will increase the budgets, but should also keep the ROAS at a stable level.
Final Thoughts
Facebook has come a long way as an advertising platform, but so have the advertisers that use it. It's more difficult than ever to advertise there and achieve fantastic ROAS, but it's still possible to run small budgets and be more than profitable.
I hope this guide will be of some help. If you have additional questions and you are working on your brand's paid social launch, please get in touch and I'll be happy to help. Depending on the complexity and time commitment, I may ask for a consultation fee 😉